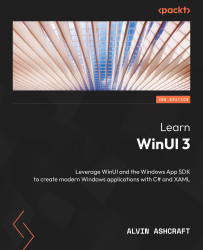 I bought a physical copy of the first edition.
I was given an electronic copy of this (2nd) edition.
I twice tried to post a review on Amazon but they refused it based on unspecified "community guidelines".
Here's what I tried to say:
Probably the best book available on learning to develop with/for WinUI3.
This updated version provides a comprehensive introduction to WinUI3 development and the broader required knowledge to help gain a firm grounding in its use.
The new and updated chapters help keep the book relevant with a platform and ecosystem that has evolved since the release of the first edition.
If you want to learn about WinUI3 from a book (rather than videos, etc.) then I recommend this one.